Article information
Korean J Otorhinolaryngol-Head Neck Surg. 2019;62(9):539-539
Publication date (

electronic

) :
2019 September 21
42세 남자가 한 달 전부터 알게 된 좌측 경부 종물로 내원하였다. 신체검사에서 좌측 level II에 약 2 cm 크기의 박동성 종물이 촉지되었고 압통은 없었으며, 눈꺼풀 처짐이 관찰되었다. 다음은 신체검사 소견과 경동맥조영술 소견이다. 이 질환에 대한 설명으로 틀린 것은?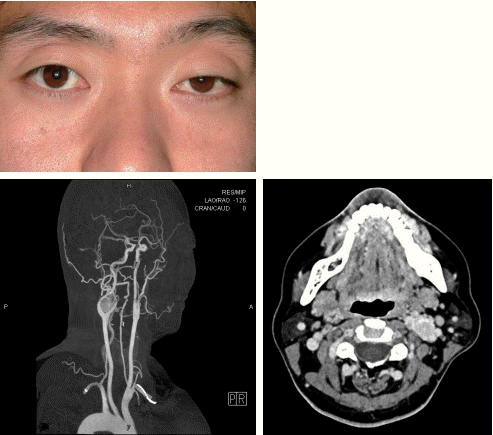 ① 신경외배엽세포 기원이다.
② 신체검사에서 좌우로는 움직이나 상하로는 움직이지 않는다.
③ Catecholamine을 합성할 수 있으나 대부분은 비기능성이다.
④ 확실한 진단을 위해 술 전 세침흡인검사를 시행한다.
⑤ 술 전 색전술을 시행하는 경우, 24~48시간 이내에 수술을 시행해야 한다.
정답 및 해설
답 ④
해 설 These lesions should be diagnosed by physical examination and imaging, and FNA should, in general, not be performed.
참고문헌: Flint PW, Haughey BH, Lund VJ, Niparko JK, Robbins KT, Thomas JR, Lesperance MM. Cummings otolaryngology head and neck surgery 6th Edition. Canada: Saunders;2015. p.1641.
Article information Continued
Copyright © 2019 Korean Society of Otorhinolaryngology-Head and Neck Surgery